Join the BROZ Family!
Do you have any siblings or are you an only child? Sometimes you even think you have too many of them?
In BROZ Hostel we love meeting our travellers and their stories. We want you to join our family, and make you feel at home. There is no better feeling than a broz leaving and saying the magic words: "Hope to come back soon!", and that's our goal.
Thanks to our location we enjoy all the sunshine hours of the day, except when it's cloudy of course! Which is not very often…
Our terrace it's a great space to enjoy the sun and gaze at the stars. Remember that we love our neighbours as much as our broz, so we kindly ask you to respect the opening hours.
Opening times 8:30 – 23:00 h
The "Cármenes" or typical houses of Granada are based on their patios. That is why, next to BROZ reception you can find a modern version of these patios, which are the essence of any Andalusian house. It will be the perfect meeting point to wait for your friends, or to plan your daily route.
Opening times 6:00 – 23:00 h
Increase your travelling family in our lounge area.
Enjoy our large lounge with: 55-inch TV, computer area, comfortable sofas where you can relax and meet other travellers, play table football, or just relax reading a book from the library.
Opening times 8:30 – 23:00 h
Opening times 8:30 – 23:00 h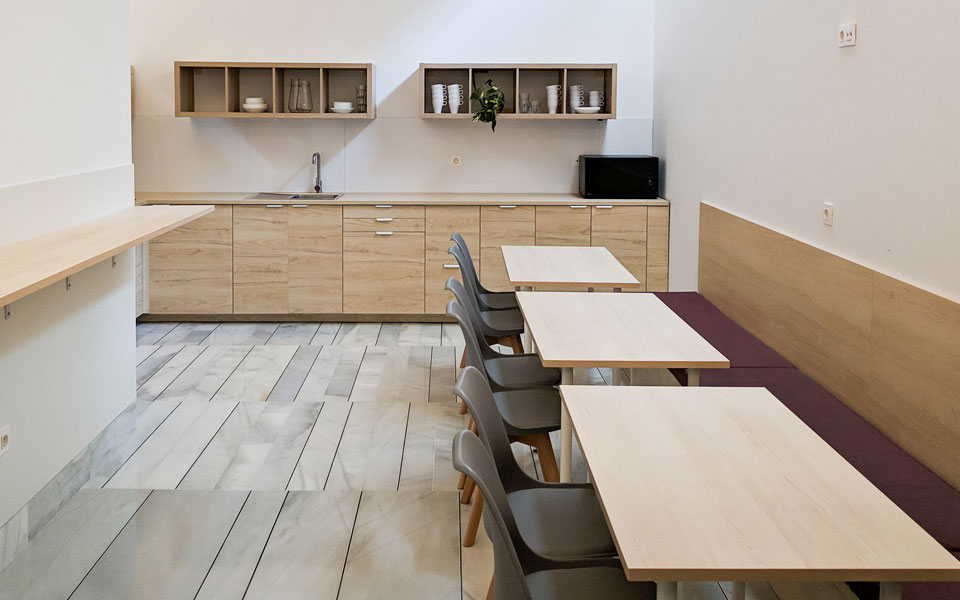 Fully-equipped kitchen with everything you need to organise dinners with other travellers, share recipes from all over the world, or delight yourselves with local products.
Breakfast times 8:30 – 11:30 h
Our breakfast comes in a basket which contains: bakery, freshly baked bread, extra virgin olive oil, salt, sugar, butter and jam.
We also offer you: coffee, cocoa powder, herbal teas, milk (vegan options too), juice, fruit, tomato, yoghurt and cereals, which you can serve yourself, to start the day with strength and energy.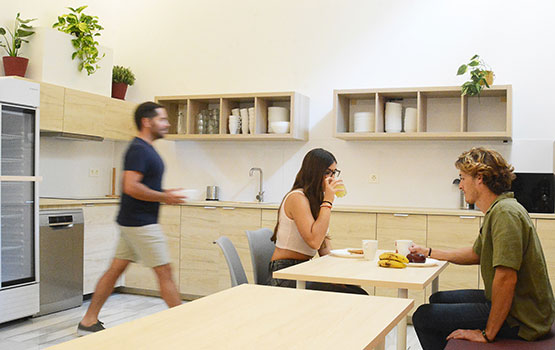 You will always be able to use the kitchen, during its opening hours, even if you book breakfast or not.